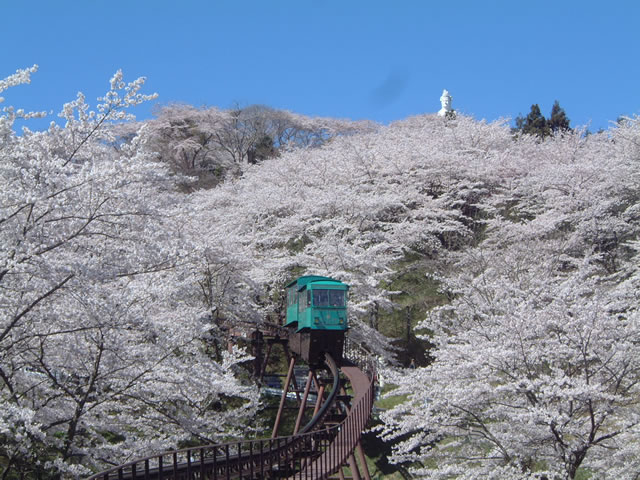 Funaokajoshi Park
(Funaoka Castle Park)
This is the location where the estate where Shibata lived until the Meiji Restoration, and is famous for having the leading cherry blossoms in the Northeast.
At the summit is the main enclosure, the middle of the mountain is the second enclosure, and the square as you go in from the Otemon (main gate) is the remains of the third enclosure.
At the order of the shogunate after the Date Disturbance the buildings for the Harada Clan were all destroyed and 1m of the soil was dug up from the land as well and thrown away. The fir tree which became famous from the NHK history drama televised in 1970 written by Shūgorō Yamamoto, titled "Momi no ki wa nokotta (The Fir Tree Remains)"still stands high above the others in the park.
You can use the slope car for the 305 m distance from the parking lot to the park summit. There is a 24 m standing Funaoka Peace Kannon on the summit and a panoramic view of the whole town of Shibata as well as the Zao mountains and the Pacific Ocean.
The "Shibata Cherry Blossom Festival" held every year from early April to end April is crowded with more than 200,000 visitors from inside and outside the prefecture.
Funaoka Peace Kannon
The statue stands on the summit of the Funaokajyo Park and since it can be seen from a long distance away, has become the symbol for Shibata-machi.
Tokusaburo Noguchi who was from Funaoka in Shibata-machi built this Kannon in October 1975, from his private fortune to pray for peace and security and for the soul of his wife, Sizu.
The Kannon is made of concrete and is 24 m in height when the pedestal is included. The Kannon holds a dove in her hands, the symbol of peace.
Previously it was possible to enter the interior, but because of the effects it received from the Great East Japan Earthquake, that is not possible now.
Community Garden Flower Hill Shibata
A 1000 square meters flower garden at the summit of Funaoka Castle park (south side of Kannon Square).
Shibata-machi, which aims for "flower city" developed this area in 2010.
The planting and design for this garden are all conducted by Shibata-machi town citizens and more than 100 kinds of season flowers and flowering trees including tulips and roses can be enjoyed.