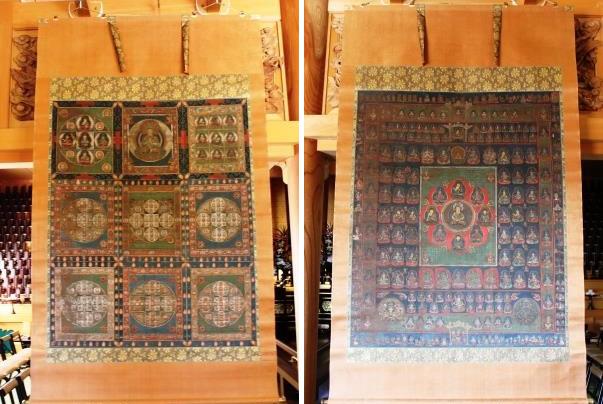 Kenponchakushoku Ryoukaimandarazu
(Daikou-in temple)
Painting from the Nanbokucho period that is enshrined in the Daikou-in temple at Nishifunabasama, Shibata-machi (157.9 cm x 129.7 cm).
Both the Kongoukaimandara and Taizoukaimandara together are called Ryoukaimandarazu and with the Dainichinyorai which is the center of the Japanese esoteric Buddhism as the principle image, shows the view of the world.
This is shown to the public twice a year in the main hall.
Exhibition date/ Jan 16 and August 16 every year
Detailed background can not be grasped however as important materials from the past has burned in past fires but in the shaft is marked "2nd year of Shitoku period (Hokucho period 1385)".
We also know that this was repaired and mounted in the 2nd year of Bunki period (1502) and 19th year of Kyoho period (1734).
They were registered in Miyagi Prefecture as designated cultural property in April 18, 1969.
Shokozan, Daikou-in temple
Daikou-in temple is a temple for the Shingishingonshu sect and has a history of more than 1260 years, and is said to have had some historical relationship with the Shokozan Daikou-in temple in Yamagata Prefecture.
In the compound, the temple with the Amidanyorai statues, as well as the guardian deity of children and a large Fudomyooh (Acala) statue as well, and is a very large temple within Shibata-machi.